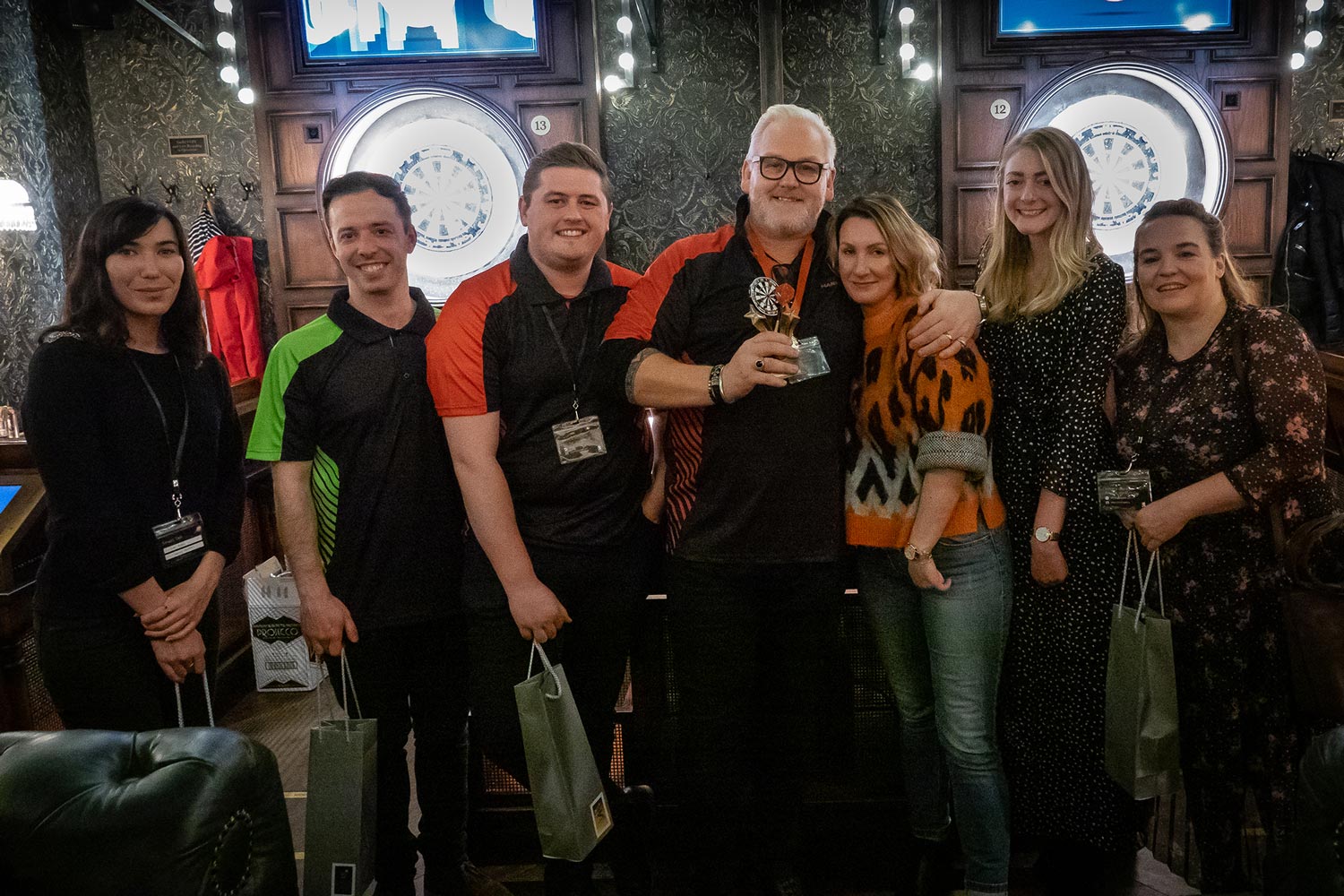 Smart Talk's back in Birmingham for the second time
Jacob Perry - Account Executive
29th November 2019
Read time 5 minutes
The second Smart Talk was back in Birmingham 14th November 2019. Marketing professionals from brands such as NFU Mutual, Holland & Barrett and Gateley Plc joined us for an afternoon of insight - and a bit of silliness! Co-hosted by M3 and TMWI and sponsored by Gleeson Marketing Recruitment, this event was set to be bigger and better than the first - with the added entertainment of social darts thrown in!
Seven teams kicked off the event at Flight Club with a darts tournament. The budding 'Bristows' were whittled down to the few sharp-shooting, highest scorers, who would later battle it out in a 'Killer' darts final. But how would the steady flow of complimentary drinks later affect their eye? Read on to find out.
Following the (highly-competitive) tournament, the afternoon of talks was warmly introduced by M3's Client Services Director, Lennon Kelly, with special thanks made to sponsor Gleeson Recruitment. Smart Talk is all about bringing together industry movers and shakers to share the latest insight and thinking around the ever-changing marketing landscape, with the aim of benefiting a marketer's day-to-day to business.
Gleeson Recruitment were the first to share their insight with the room. They spoke of the latest recruitment trends in the marketing and digital space. Business Manager, Ben Williams and Business Partner, Cayven Valentine enlightened us further by revealing the industries currently going through high levels of recruitment and what businesses and candidates like to see when searching for a new role, therefore informing recruitment for marketing teams in these sectors. The fastest growing job titles and skillsets were also revealed, giving great insight into what roles will be the most sought after in 2020, as well as how to approach recruitment in the near future.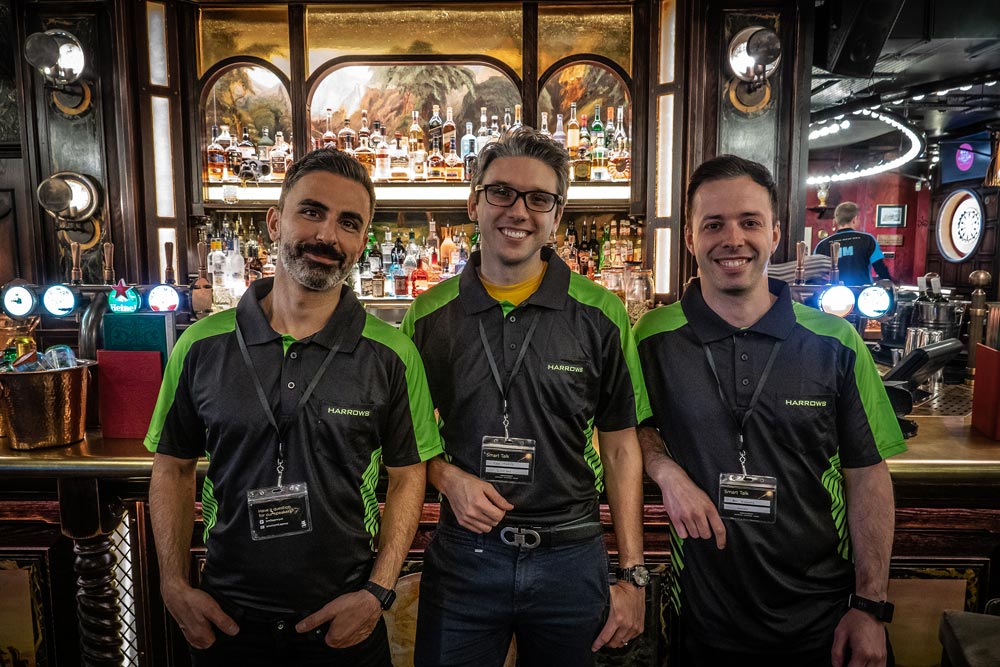 Andy Taylor shows us how to build a social community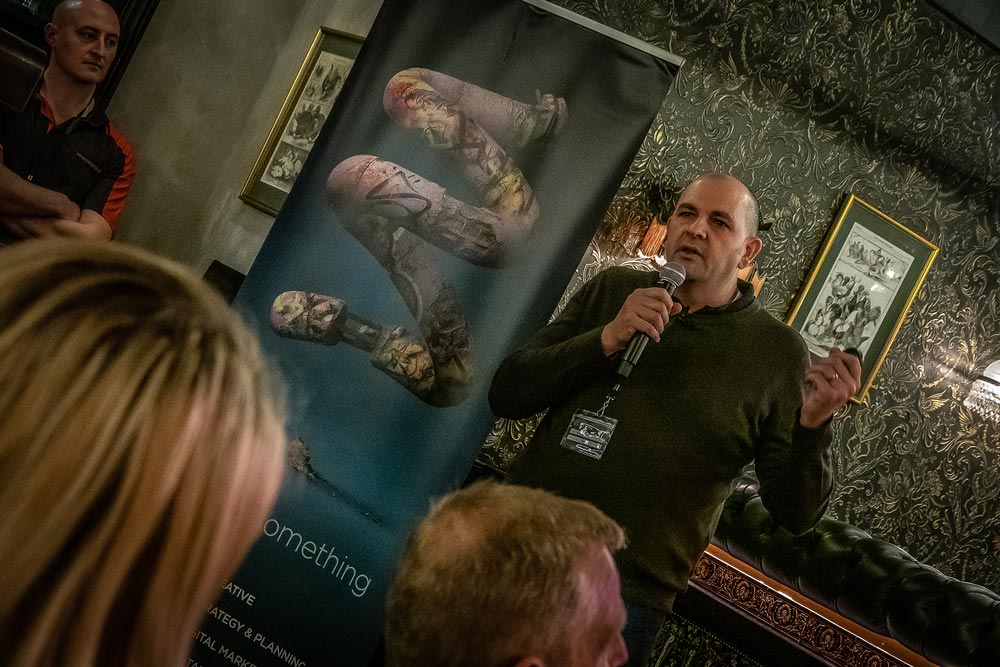 Andy Taylor, Commercial Director at Electric House, shared the success story of On The Tools, their social media platform that boasts the largest construction-based online community in the UK - over 3 million Facebook followers to be precise! Along with sharing examples of hilarious user content, he talked about what goes in to constructing a social community, by use of intelligent and audience insight and with content that is built to engage and drive traffic.
They are a 'community first' led agency. This is different from the usual formula for agencies of this nature, as they create the communities first and then take these to the brands, rather than creating the marketing plan and finding an audience to fit the content. This is only achievable through their strong social community of like-minded people, therefore enabling them to make highly engaging, sharable and relatable content.
Gary Taylor tells us how to get our audience to take action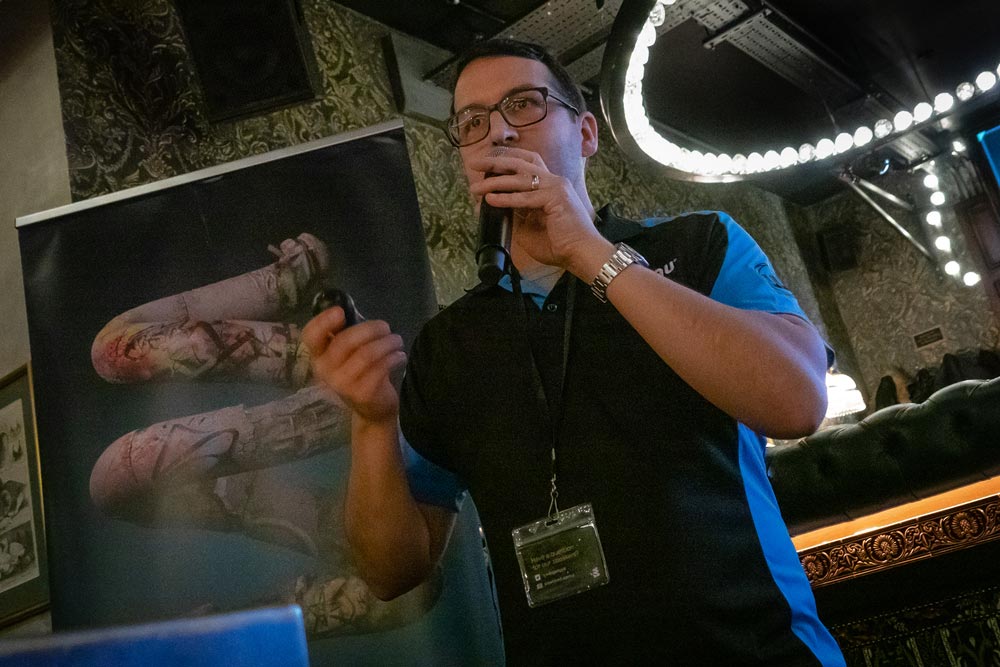 Gary Taylor, Deputy Managing Director at TMWI took to the floor second. TMWI is an independent marketing agency based in Stratford-upon-Avon and one of the largest media buyers outside of London. Gary's talk highlighted why brands need to engage with consumers pro-actively and relevantly, for them to take action.
Key to this engagement is local mobile advertising powered by location-based tracking. Gary shared the variety of providers and methods available but also detailed some of the limitations of location-based tracking. He highlighted some of the limitations with providers such as Google Ads and Facebook, identifying the required criteria that needs to be met in order to qualify to use their tracking services. For example, one of the biggest barriers with Google Ads is that you need 100,000 clicks on a PPC campaign within a certain period of time to qualify, which for many brands is out of reach due to budget constraints.
However, TMWI's partnership with AudienceStore gives them the ability to provide and collate granular data on in-store visits through location-based mobile tracking on relatively small budgets. KPI's used in location-based tracking range from impressions within a specific audience, clicks on an ad, device IDs, website visits, store location page visits, store visits and store sales.
Gary signed off his insightful Smart Talk by highlighting the benefits of creating a unified ID to track a customer journey from source to conversion. Media providers such as Facebook are imposing much stricter rules and regulations on data usage, so this unified ID allows consumers to be targeted effectively without breaching rules and regulations that govern the use of that data, paving the way for future effective advertising campaigns.
Gareth Lloyd highlights the power of brand collaboration on a global stage
Director of Partnerships for Birmingham 2022, Gareth Lloyd brought his expertise to Smart Talk to highlight the powerful connections of brand partnerships with global events. Gary represents the organising body for the Commonwealth Games which will be gracing the city of Birmingham in 2022.
Gareth opened his talk by discussing the scale of the games along with what we can expect from Birmingham 2022. He also talked about 'A Game For Firsts', highlighting the inclusivity and ground-breaking 'first' features of the games. These include able-bodied athletes competing alongside disabled athletes plus a dedicated youth games, to encourage and bring through rising stars of the athletics world.
Gareth shared the planned advertising efforts of Birmingham 2022 and the key part that the community will play in this. Their advertising will use real people and real communities to highlight the varied culture and education aspects around the games, encouraging local people to take part and get involved.
Gareth closed his Smart Talk by highlighting how brand partnerships have evolved from traditional advertising to brands now having consumer impact in a cause-related way. Birmingham 2022 intend to fulfil this by supporting their partner's aims for the games, which in turn will allow Birmingham 2022 to achieve and deliver their Mission Statements. The importance of these games to the city of Birmingham is huge as it will be the last time the city will host the games in a generation. It's a great opportunity to get involved and to say, 'I was there'.
Following an engaging Question and Answer session with all our speakers, the finalists took to the oche for the 'Killer' showdown. After a tense final, which resulted in a 'nearest the bull' last dart throw, our very own Group Creative Director, Stu Perry emerged the winner, securing a bottle of bubbly for everyone in his tournament team, with Laura Edwards from Bristan taking the runner up prize.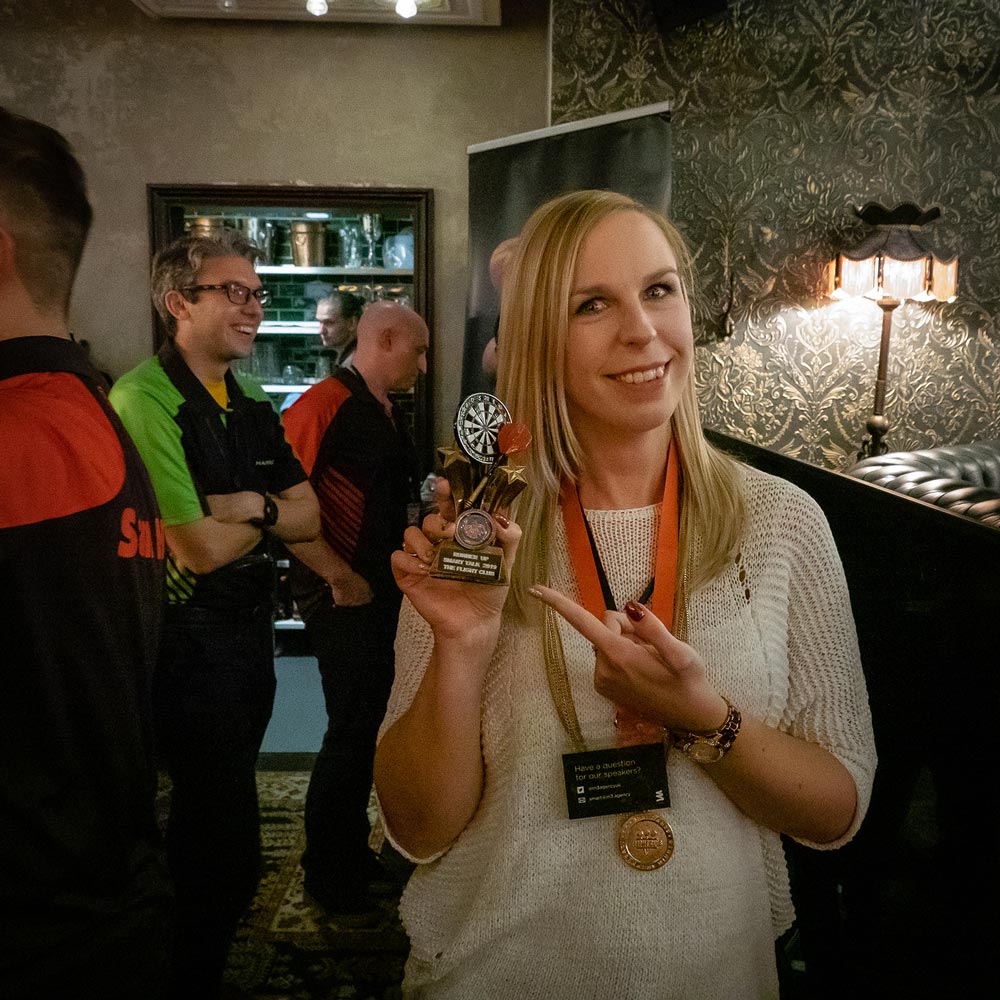 This wrapped up the event for the day, with guests then taking their time to enjoy a drink and casual conversation. It was a fantastic event with laughs aplenty.
Register your interest here to join us at our next Smart Talk, where we'll once again bring together an afternoon of latest insight, inspiration and thinking around the industry and ever-changing marketing landscape.
Get in touch with us for more information on our services, our culture or our agency. Let's do something together.
Learn more about our inaugural Smart Talk event, bringing together industry leaders to share insights about the ever-changing marketing landscape.
18th September 2019
Read time 5 minutes
We're proud to announce that we've been named one of the best digital marketing agencies in the industry according to The Manifest.
15th November 2022
Read time 3 minutes
Get to know the people behind our talented team, and the ins and outs of their daily roles. This month, we spoke to our Paid Acquisition Manager Joe Dingley.
15th November 2022
Read time 5 minutes