It's safe to say that growing up, every household once owned an A-Z Road Atlas, which sat neatly on our back seat or in our glove box ready to guide us on our next family adventure. But what does an A-Z Atlas have to do with SEO and XML Sitemaps?
What is an XML Sitemap & How Do They Work?
As an agency, we often find ourselves explaining the importance of an XML sitemap as this isn't something users tend to naturally come across.
An XML sitemap provides Google with a list of web pages that we want Google to crawl and find. This becomes especially important when a website's internal linking isn't great.
Imagine an XML Sitemap as a Roadmap
One way we can explain what an XML sitemap is to look at it as the A-Z Road Atlas of Google's journey through your website. Although search engines such as Google are extremely intelligent, it still needs directions on how to get from point A – B on your site, which is where the neat list of URLs within your XML sitemap comes into play. Without the guidance of your sitemap, Google will take a much longer and confusing route to crawl your site which could result in some pages not being indexed.
Think of it this way - with an XML sitemap, Google will ensure it take the quickest, most fuel efficient and lowest mile route to get from point A – B. However, without a sitemap you can be sure Google's journey will be take much longer, and may include tolls and roadworks!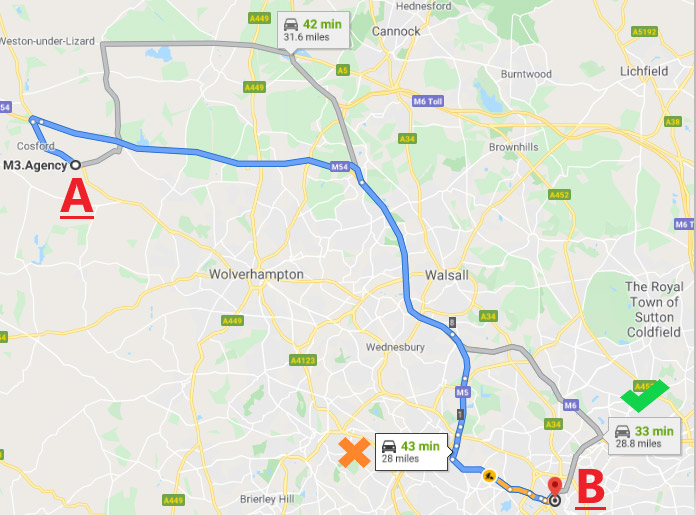 Establish the Best Route
What Pages Should I Include in My XML Sitemap?
Now that we understand where we're going, it's time to figure out how we get there!
The URLs you include within your XML sitemap are your directions for Google's journey. The best way to start thinking about your route is to determine each URL by relevance to a user. We want to ensure each URL included has well written, relevant and up to date content on that adds value to users.
'At Homepage Road, in 60 yards go straight over navigation bar roundabout to Our Services Lane'.
We want to include every indexable page in the sitemap including Homepage
Hub Pages
Category Pages
Blog Posts
What Pages Should I NOT Include in my XML Sitemap?
If the name of a road has changed, you would not include this in your directions, therefore these are the kind of URL's you do not want to include within your sitemap. Not all URL's are relevant for users to find as they may not offer value therefore, we do not want Google to find them either or included in search results.
Any URL's that can be categorised as the below should not be included within your sitemap:
Broken or redirected pages
Canonicalised URLs – we want to present Google with the one true version of each page.
URL's blocked by robots.txt such as filters in a category page.
Noindexed URLs
Paginated URLs such as each individual page of a category page.
What Are the Key Components of an XML Sitemap?
The layout of your sitemap is crucial to ensure Google can crawl each URL correctly easily. The key thing to remember when putting your sitemap together is ensuring you have each URL perfectly laid out for Google to read.
The image below shows exactly what your sitemap should look like. They're the perfect directions for Google to navigate through each page on your site: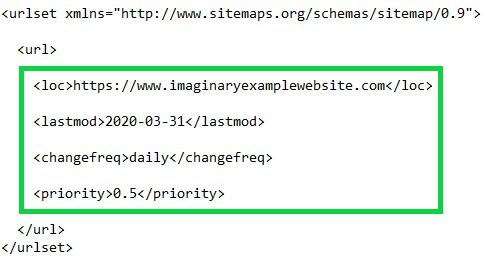 Loc: Each URL should be displayed within a location tag. The URL should include protocol (http or https) and whether URLs work on www. or non.www.
Last mod: With the last modified tag, Google can determine when the page was last changed and if it should be crawled again. This information is crucial as Google likes to display fresh new content within SERPs so will consider this as a ranking factor.
Change freq: The change frequency tag tells Google how frequently the content on a page is likely to change so Google will know when to re-crawl the page for any new changes.
Priority: The priority tag tells Google tells how important a page on a scale between 0.0 to 1.0.
Static Vs Dynamic XML Sitemaps
There are two ways XML sitemaps can be generated – manually or automatically.
Static sitemaps can be created using tools such as Screaming Frog which you can generate yourself and upload to your server. Quite like using the A-Z Road Atlas and mapping out your journey yourself.
The only issue with a static sitemap is that anytime a page is removed or added to the site, the sitemap will need to be updated to ensure Google is crawling the most up to date version of your site.
Dynamic XML sitemaps can be automatically generated through either a plugin in your CMS (e.g. Yoast for WP websites, Amasty for Magento, JSitemap PRO for Joomla and Branched Sitemap for OpenCart), or through a custom code script which would require the help of a developer. Just as Google Maps updates you on a change to your journey, a dynamic XML sitemap is constantly updating Google on changes to a page.
We're Ready To Go!
Uploading My Sitemap Search Console
Your XML sitemap has been generated, including all of the URL's we want to be indexed and can be found at https://www.imaginaryexamplewebsite.com/sitemap.xml.
Uploading your sitemap to Google Search Console will ensure Google can find your XML sitemap and will crawl it.
To upload a sitemap in Search Console, go to Index > Sitemaps. You can add a sitemap in the top box or select a sitemap you have already submitted to check for any coverage errors.
For more information about our digital marketing services, get in touch with a member of our expert team here at M3.Agency.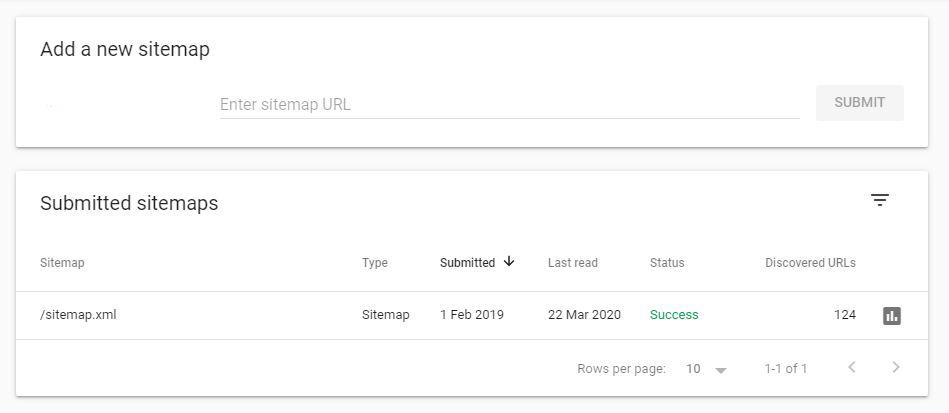 When you click into your sitemap you should be able to see the last time Google crawled your site and how many URLs are included within your sitemap.

By clicking on 'SEE INDEX COVERAGE' you can see how many URLs are valid within the sitemap and if any URLs are showing warnings or errors. If there is an error, they will be listed below the graph with descriptions of what Google found.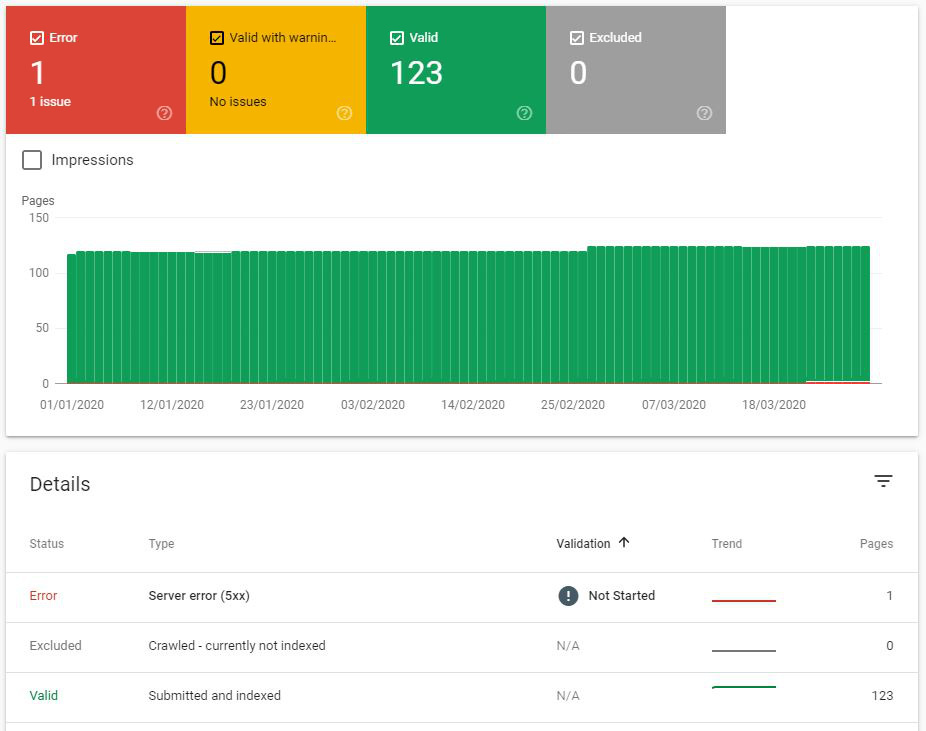 You Have Arrived at Your Destination
Your sitemap is up and ready, Google had a smooth journey and crawled your site seamlessly without taking any wrong turns or stumbling into errors. So, how does this benefit your site?
Results to look out for:
Index Status: Once Google has crawled your site your index status should improve meaning users will land on more of your pages that Google displays within search results.
Boost in rankings: Sitemaps ensure each page on a site is indexed, therefore off the back of this there is a chance you should see rankings increase.
Organic traffic increase: The domino effect of seeing a ranking's increase means more organic traffic for your site which is the ultimate win for users and SEO's like us.