We're proud to announce that we've been named one of the best digital marketing agencies in the industry by The Manifest. We're among the top reviewed SEO providers in Birmingham this year.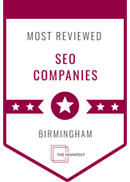 Masters of Modern Marketing
At M3 Agency, we work hard to produce exceptional results for our partners. We provide creative, ROI-focused digital services, leading our clients to solve complex problems. Our collaborative and specialist teams operate under our proprietary Modern Marketing Model to create a customized blend of strategy and tactics for all our client partnerships to clearly define success for every task and get the job done.
Since 1999, we've been operating with the mission to lead companies toward growth and success. Our processes have evolved over the years to adapt to the ever-changing digital landscape, but we remain committed to our core values. This award is a badge of honour that symbolizes our team's hard work in helping clients.
What our clients have to say
One of our partners recently shared their feedback about our work. A recruitment company partnered with us in February of 2021 for SEO solutions. The goal of the engagement was to support the client in repositioning their business and brand perception in the market. They onboarded us for full-scale SEO solutions in an effort to improve rankings and drive organic traffic to their site. Here are their comments about our project:
"The specialist knowledge that they can offer is great. They are an extension of our in-house marketing team and have become an integrated part of our marketing function."
— Sophie Pontoppidan, Digital Marketing Executive, Alexander Daniels Global
Thank you to Sophie and her team for sharing their kind feedback with us.
We want to get to know you better. Contact us today and tell us more about your current digital strategy.