Local Search Opportunities for SEO & PPC 2019
By David Gayson - SEO Manager
Read time 5 Minutes
19th December 2018
When it comes to local searches, businesses with physical locations have a strong advantage compared to online-only businesses. In fact, a study released by Google in November 2018 showed that 61% of shoppers would rather shop with brands that have a physical location than ones that are online only.
Having a strong presence in local search results is especially important for businesses that have a physical location/s or serve a specific area. Another study undertaken by Google states that:
4 in 5 consumers use search engines to find local information.
50% of consumers who conduct a local search on their s martphone visit a store within a day.
18% of local searches on smartphone lead to a purchase within a day.
Google's search results are constantly getting more advanced, with more features and more ranking factors. A typical localised search result can be broken in to 3 different sections:
1: Organic Search Results
Unpaid results that Google find relevant to the search term. For a local search result, organic results will take the user's location in to account.
A localised search result will contain both standard listings and the Google Maps Pack. To appear within Google Maps, you'll need to have a verified Google My Business listing.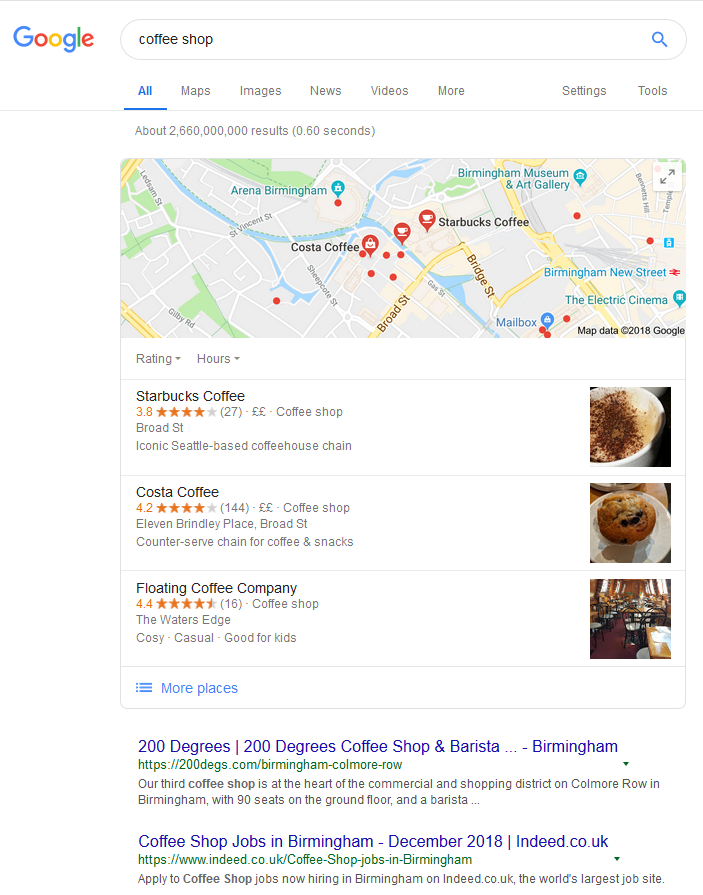 Fig. 1: Localised search results for the term "coffee shop". Not only is the Maps section prominent, but the standard results are heavily localised too.
For a single-location business, a combination of well-optimised home, service and contact pages combined with local citations, strong backlinks and reviews will help rank the website locally. Although single-location businesses tend to be smaller than multi-location businesses, they tend to be easier for Google to understand. For example, a higher proportion of backlinks and mentions may come from the local area and on-page SEO can be easier to control within one location without signals becoming confused.
Businesses with multiple locations (or businesses that serve multiple areas) can benefit from local landing pages, which can be used to align all location-specific signals within a website. A local landing page has two purposes: To rank organically and to convert users in to customers.
Ideally, a local landing page should contain:
Location in the URL, Page Title and Heading Tags
Services offered in Page Title and Heading Tags.
Name, Address and Phone number that aligns with both Google My Business and local citations.
Unique, location-specific content.
A strong image of the business.
A list of service offered alongside their benefits.
A map of the location to allow users to easily navigate there.
Testimonials or Reviews.
Strong calls to action that make it obvious what the next step is for the user
Structured Data. Using Merkle's Schema Markup Generator followed by Google's Structured Data Testing Tool will make this an easy process.
Relevant internal links to service pages.
2: Paid Search Results (Local Search Ads)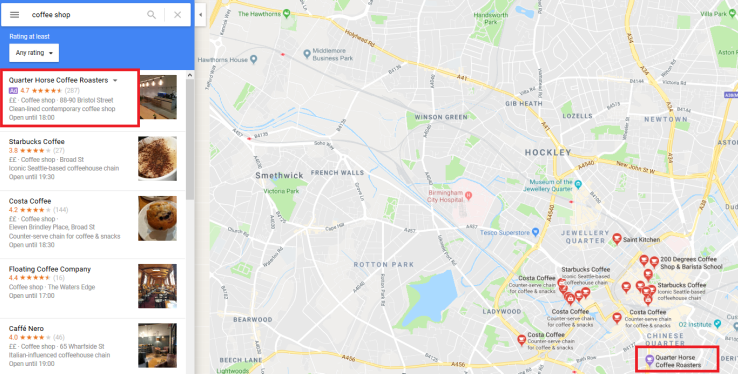 Fig. 2: Google Maps listings for the term "coffee shop". The paid ad appears at the top of the Maps listings and amongst the pins.
Called Local Search Ads, these are adverts that that give users the option to visit your website, call you or visit your location. These listings can appear within Google's Search Network (standard text ads), within the Google Maps Pack (both amongst the listings and pinned on the map itself) and through Google's Display Network.
For your local search ads to appear, you should:
Enable search location extensions within your Google Ads account
Verify your Google My Business listing
Use location targeting
3: The Knowledge Graph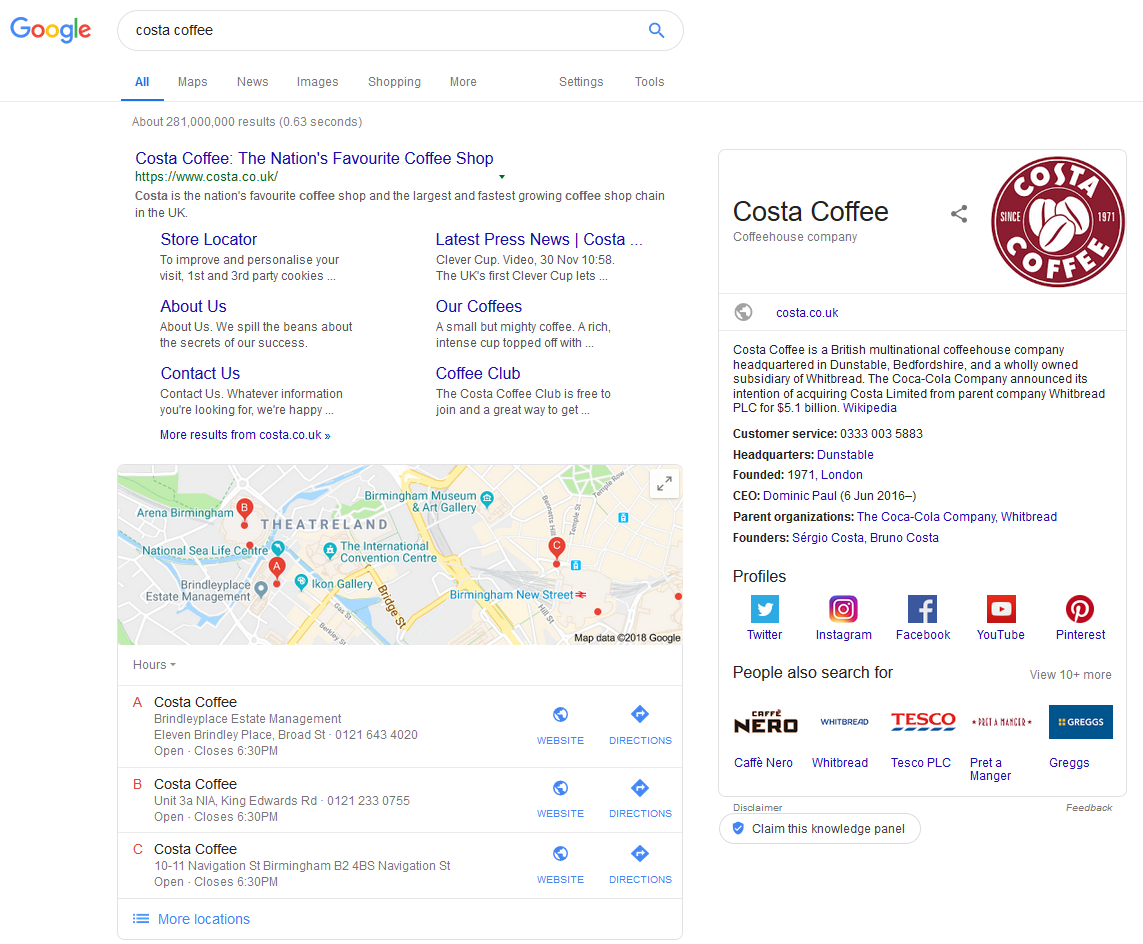 Fig. 3: Costa Coffee's Knowledge Graph, showing their a description pulled from Wikipedia, their Social Profiles, related businesses and an option to claim the knowledge panel.
Often appearing at the top or to the right of search results, this is pre-indexed information from multiple sources that Google organises and presents within different search features. Within localised search results, the most common variation is the Knowledge Panel, which contains a business's information, including:
Name
Address
Photo
Directions
Website link
Reviews
Opening times
Call to action
Questions & answers
Popular times
Related results
Users can now claim and suggest edits to their own Knowledge Panels but this doesn't give full control. For information to appear in a Knowledge Panel, Google requires trust signals to ensure the information is 100% accurate. Sources include:
Google My Business – claiming and verifying your Google My Business profile allows you to provide Google with self-verified information about your business.
Citations – Google scrapes citation sources for your information. The more this information matches up, the more the search engine trusts it.
Structured Data – Schema markup on your website helps Google understand the data you provide.
Social Media profiles – If your citations and structured data link to your social media profiles and likewise, your social media profiles link to your website, that's a set of strong signals that can lead to Google displaying your social media profile within your Knowledge Panel.
To enlist search experts to support your business and keep up with the ever-growing local search landscape, contact us or view our Digital Marketing services. We'll get a strong return on your investment and ensure your business is delivering the right message.
Get to know the people behind our talented team, and the ins and outs of their daily roles. This month, we spoke to our Paid Acquisition Manager Joe Dingley.
15th November 2022
Read time 5 minutes
Get to know the people behind our talented team, and the ins and outs of their daily roles. This week, we spoke to technical SEO specialist, Liam.
17th March 2022
Read time 4 minutes
It's an exciting time in the world of marketing. In September, we saw important social issues brought to the forefront, as well as a branding transformations from ASDA.
4th October 2021
Read time 7 minutes