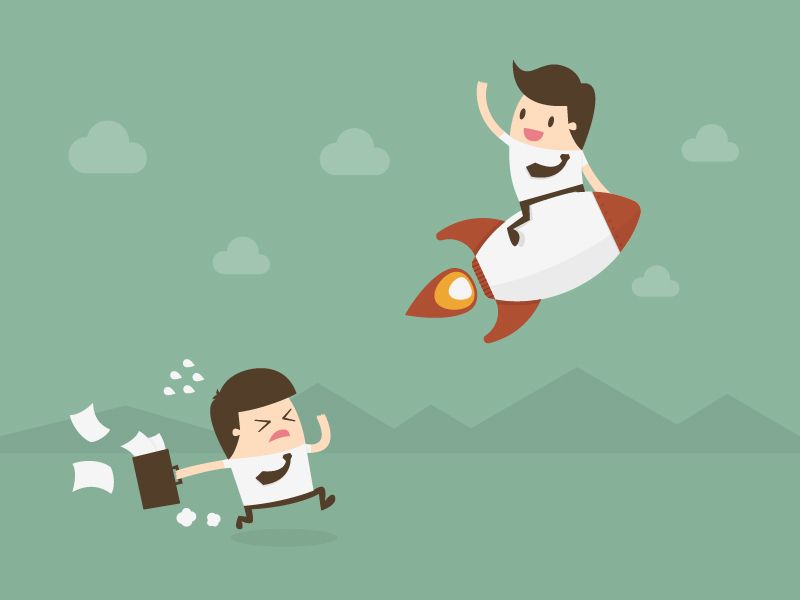 Keeping Ahead of the Competition
By Candice Donnelly - Senior Account Manager
Read time 2 Minutes
14th September 2018
We all know that to be successful in business, it's imperative to maintain a healthy competitive advantage in the marketplace. To do this well and improve sales and market share it's crucial to know and understand your main competitors and their business strategies.
Here are some key aspects to focus on, to help you keep ahead of your competition:
Know your competitors!
What do they stand for? What is their product or service offering, and what are their claimed USPs? Understanding these will help you identify the key areas where you can focus on differentiating from your competitors – arming you with that all-important competitive edge in the marketplace.
Keep your existing customers happy and take time to get to know them
If you don't, tomorrow they will become your competitor's customers. Invest in loyalty programmes offering preferential rates/benefits to thank and reward customers for their custom. Think about incentivising your customers to provide feedback on your services and products. This will help you identify any changes in customer needs and allow you to keep up to date with latest trends and expectations. The key is to plug every gap within your customer's buying/re-purchasing journey to ensure they see the value of remaining loyal to you.
Endeavour to keep your customer service and insight into your customers' buying behaviour as a top priority – it's far more cost effective to keep existing customers than it is to invest in searching for new ones!
Create a competitive edge
When you know who your competitors are and have insight into your core customer base and their needs, how do you utilise this information effectively? Focus on identifying potential opportunities for success using unique promotional messages, differentiating you from your competitors and providing that all-important cut-through from all the competitive 'noise'. So, if your competitors' marketing strategy is driven by price messaging, then why not look to create a marketing strategy based on promoting the quality of your products/services instead?
Is image everything?
Never underestimate the importance of investing in creating a strong brand presence in a competitive environment. Ensuring you have a distinctive, consistent brand image with messaging that is relevant and recognisable to your target audience, will go a long way to achieving stand out amongst your competitors. Maintaining credible tone of voice and communications will ensure customers will want to engage with you and hear what you have to say.
If you can master the above as part of building your business and marketing strategy, you stand a fighting chance of keeping ahead of your competitors, and becoming a strong market leader in your industry. But never forget that healthy competition pushes us all to strive for better results, which can only be a positive thing!
As we enter into 2019 with no clear indication of what Brexit looks like for the UK, many clients and are struggling to understand what impact Brexit is going to have on their business, and the sectors they operate in. I believe marketing teams have a huge role to play in planning and shaping the future of their businesses. There are many different factors that are currently affecting customer confidence and subsequent actions:
6th February 2019
Read time 5 Minutes