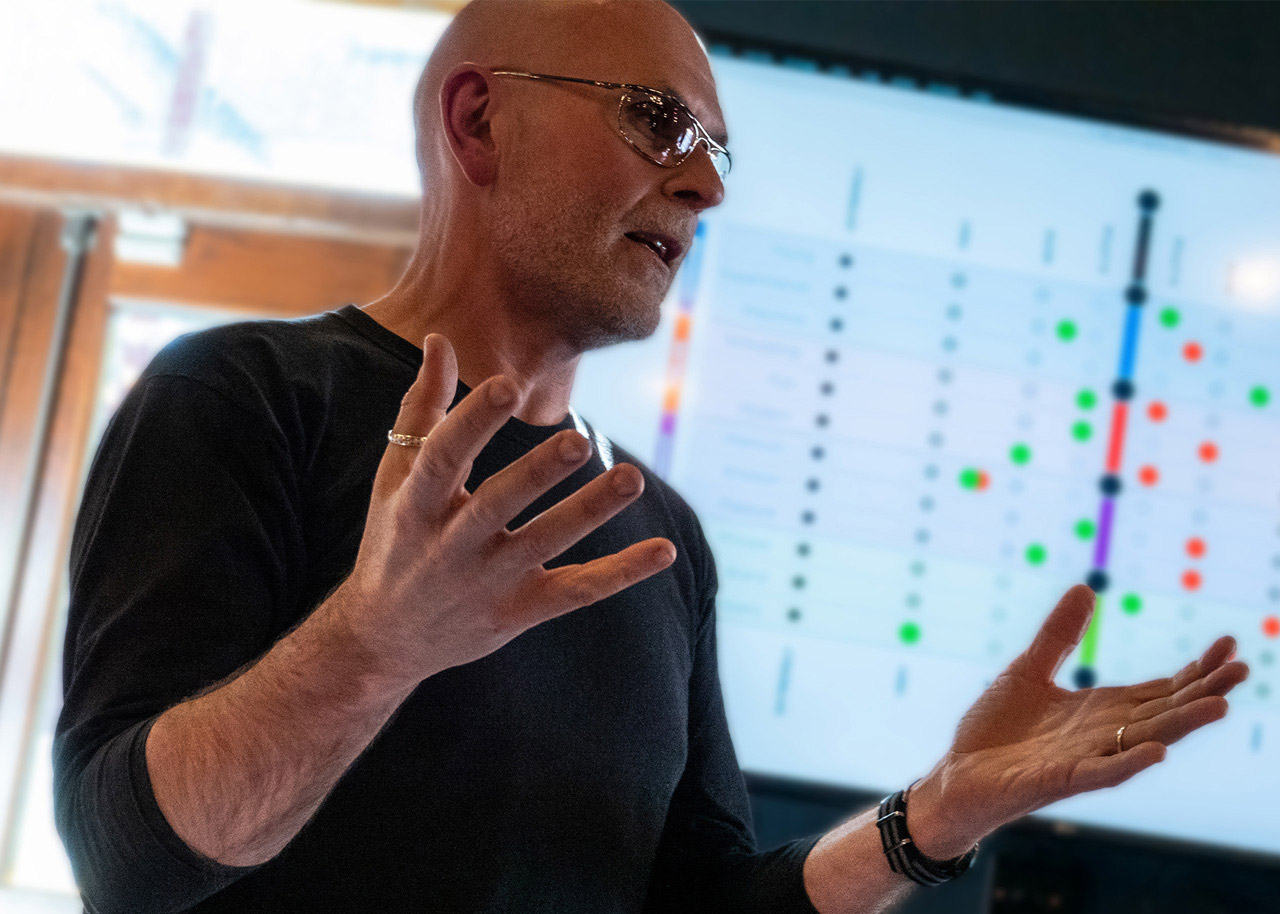 Meet the Experts: Steve Price
Kerisa Carlin - Content Executive
14th April 2022
Read time 5 minutes
Here at M3, we think it's important to show the personality behind the brand. There's a lot of us here, so we've devised our 'Meet the experts' series – allowing you to get to know each member of our family a little better. Today we sat down with our very own advertising heavyweight Steve Price – his impressive career started in the mid-80s at the very start of the relentless digitisation of the creative industries.
While the industry progressed, so did Steve and he has worked on numerous campaigns throughout the years. In this 'Meet the Experts' blog, not only do we get to know the man, the myth, the legend that is Steve Price, but we also get plentiful insight into the art of advertising in the UK.
Steve's start
Steve's beginnings came at a design studio in Bournville at the age of 17 years old. Unlike many of his peers, Steve didn't go to university – his working-class roots made him feel as though he ought to start earning money after college. He grants his knowledge of the new-fangled Apple Mac may have helped him land his very first graphic design job. Steve describes this time as a "new era of advertising":
"The industry was very lucrative in the 80s - loads of money, more manpower needed to make even simple things – and computers came along and just made everything easier and put more control at the fingertips of creative people. It felt like a limitless time for creativity. One of my favourite TV ads of the time was commissioned through BMP DDB for The Guardian in 1986 (https://youtu.be/_SsccRkLLzU) – it showed a skinhead chasing after a businessman and in the first instance, it seemed as though he was being attacked, but when the camera angle switched, you saw the man was actually saving the businessman from a pile of falling rubble. It really made you think. So powerful!"
Creativity in Birmingham
Not only was advertising on the cusp of something new, Steve was starting out in Birmingham, a city which was going through a transformation of its own… "It was 1987 – Birmingham City Council has just announced its Big City Plan which mapped out the restoration of the canals, new train stations, Broad Street, Digbeth, Bullring and all that jazz."
During this time the industry was changing – in the beginning, his first agency had a lucrative business making 35mm film slides for presentations. Specialist time-consuming work. This is how companies showed presentations in meetings and at conferences. "PowerPoint killed that industry stone dead on the spot". There were huge changes going on: "First, it was the digitisation of conventional work, this was the first progression – then came the evolution of media, new media, social media, YouTube and all those channels that are such a massive part of our modern creative landscape".
"There has been relentless change ever since – every five years, or so the industry essentially turns itself inside out."
UK Advertising culture
When we asked Steve about the culture of UK advertising, and what differentiates us from the rest of the world, he described UK advertising culture as:
"Maverick – the UK is an inspirational figure in the world of advertising. We produce consistently creative, edgy work, we think differently".
One of Steve's inspirations is Peter Saville – English art director and graphic designer who was creative director for the city of Manchester for a time as well as his era-defining work for Factory Records and Joy Division especially.
"Consuming media is important for creating media – it has to be at the heart of what you do, but it's important to not let it consume you". Today the world of advertising is even tougher, marketing has a lot of influence on our ads – these days, clients want to know all about the data. "We as a society have become hardened to advertising – approximately 95% ads go unnoticed, so it's so important to be bold if our work stands a chance of being remembered."
Steve's style
We quizzed Steve on his own design style, to which he described it as minimalist. These are some of Steve's rules for design:
Minimalism – everything has to earn the right to be on the page, this doesn't matter if it's digital or print.
Use of geometry and shapes
Cleanliness – use of simplicity and white space
Simple ideas executed in an immaculate and stylish way
Decomplicate and declutter
Change people's opinions when you can
"It's important to have your own style and aesthetic – this being said, you must have the ability to become a chameleon and be able to apply your style to any task".
Advice for any aspiring creative directors?
Steve has learnt a lot after 35 years in the industry, so his advice for future directors goes as follows:
"Understand that you are no longer a creator, but a curator and always be ready for change. By staying curious, you can ensure longevity and keep a youthful mindset."
"Still keep handy on the tools so you can help out at a moment's notice. It's easy to have an opinion on something, but always ensure everything you do is inspiring creativity."
His favourite aspect of the job is: "Knowing you having something great to present and blowing the client away. This feels even better when it's a team effort!"
Steve also maintains the importance of empathy - "The industry has a reputation for treating people badly, burning them out. I've had to endure many moments of overwork during my lifetime. Sometimes you have to pull a shift but it's critical to show your teammates that the effort is valued."
Quick fire questions
How would your friends describe you?
Honest. Helpful. Funny. Can be a bit greedy in a 'sharing platter' type situation!
Any interesting hobbies we should know about?
Always trying to improve on my golf handicap of 15. Learning the bass guitar. Keen cyclist (but never in lycra!)
Give us three fun facts about you!
I designed the logo on my wheelie bin (Sandwell Council)
I was lead singer in a rock band in the 90s (the last great decade)
I have been a Shakespearean actor (helps with the presentation skills)
Stay tuned for more 'Meet the experts' pieces where let you get to know other members of the M3 family! If you would like to know more about our creative services, be sure to contact our helpful team.
West Midlands based creative agency, M3, has today announced the appointment of their new Creative Director – Steve Price.
2nd December 2021
Read time 3 minutes
M3 has released its own take on the famous Bob Dylan song 'Subterranean Homesick Blues' in an attempt to deliver a light-hearted observation on staying home during isolation.
16th April 2020
Read time 5 minutes
Wondering how to retouch photos? Learn more about the history of Photoshop, how to use Photoshop and our 5 quick wins on retouching images from our detailed guide.
8th April 2020
Read time 7 minutes